As usual, the current Poppy sketch gave me a bit of a creative crisis. Every time I see the sketch and colour combo over on Poppy sketches, I know I want to participate, but the sketches are usually a bit more abstract than the average sketch challenge, so my creatively challenged brain is struggling. I usually need a week of thinking time before I know what I want to make, so luckily the challenge is a bi-weekly one giving my brain a chance to catch up. This time it took inspiration from two other challenges to complete this card, "Stencil" over at Addicted to CAS and "Use Watercolour" over at Simon Says Stamp wednesday challenge.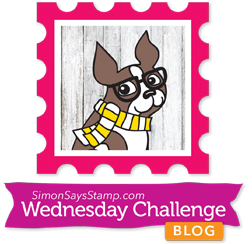 I used a Tim Holtz stencil for the background, along with TIm Holtz Distress paints. However, I didn't use the stencil as you normally would by dabbing colour through it, but as a stamp. I really like the look this way. I spritzed the watercolour paper with water before "stamping" to get a watercolour effect. I then used the Tim Holtz stamp set Grunge Cirque which I coloured with markes and spritzed lightly with water before stamping. I used a marker to write the sentiments into the stamped image, I thought that was quite fun.
Then I had to put the card away, as I got an overwhelming urge to start adding ribbons and rhinestones and pearls and distressing and whatnot. But I managed to walk away and keep it CAS. Shortest "products used" list ever, eh? As a consolation prize, I did some stamping for the inside of the card.
Card: Daler & Rowney 300 gsm watercolour paper, coloured 240 gsm kraft card Purple grape, Hobbycraft 160 gsm white card
Stamps: Tim Holtz Visual Artistry Grunge Cirque, Paper Smooches Sentiment Sampler (for the inside)
Ink: Tim Holtz Distress paints and markers in Dusty Concord, Mowed Lawn and Seedless Preserves